Who We Are.
MyVisionTees.com is the online "design-it-yourself" custom screen printing & embroidery service located in Brookfield, CT.  We provide services locally to the greater Danbury & New York area as well as offer nationwide free shipping through our website. We are a professional print shop that uses state-of-the-art equipment to create high quality custom t-shirts, hoodies, jerseys, baseball caps & any other garment you can put ink on at prices better than any of our competitors. We have an experienced staff of graphic designers, screen printers, embroiderers & a support staff that have been with us for years and are always available to help get the job done right and shipped out to you on time. We're not a new company that popped up to capitalize on the online T shirt printing fad. We've been doing this for almost 20 years and we've perfected our craft and our high quality custom screen printed & embroidered products reflect that.
Don't waste you time & hard earned money trying other T shirt websites. Many of them don't even print in-house & have no control over quality. We only carry the best brands like Fruit of the Loom, Gildan, & Hanes and will deliver the best quality apparel & screen printing every time, and shipping is always free!
Screen Printing by MyVisionTees.com
Simply put, screen printing is a technique that uses woven mesh to support a stencil which is used to transfer an image. The stencil forms open areas of mesh which transfers ink through the holes to make the design. A rubber squeegee is used to push the ink across the stencil and force the ink through the openings and onto the garment.
Screen printing is more versatile than some other traditional printing techniques. Different inks can be used to work with a variety of materials, such as textiles, ceramics, wood, paper, glass, metal, and plastic. As a result, screen printing is used in many different industries other than apparel decorating.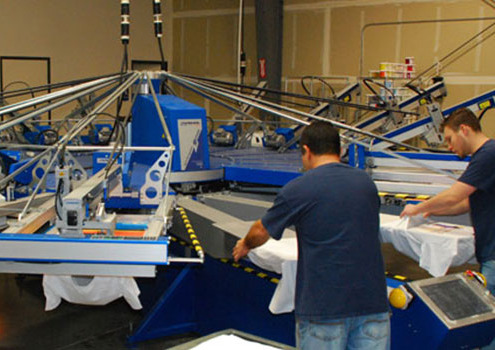 Embroidery by My Vision Tees
Much contemporary embroidery is stitched with a computerized embroidery machine using patterns "digitized" with embroidery software. In machine embroidery, different types of "fills" add texture and design to the finished work. Machine embroidery is used to add logos and monograms to business shirts or jackets, gifts, and team apparel as well as to decorate household linens, draperies, and decorator fabrics that mimic the elaborate hand embroidery of the past. Custom embroidery services are provided in-house at My Vision Tees on our two 6-head Barudan embroidery machines by a staff with over 12 years of embroidery experience. We can handle jobs of any quantity and stitch count.